The Chief Executive Officer of the Ghana Shippers' Authority (GSA), Ms. Benonita Bismarck, has reiterated her advice to transit truck drivers to remain vigilant while travelling in the light of heightened insurgency attacks within the West Africa sub-region.
She gave the advice when she addressed a transit stakeholders meeting held at Tema on Tuesday, July 11, 2023.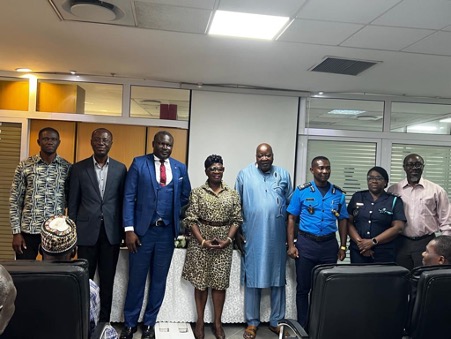 Dignitaries at the transit stakeholders meeting.
Ms. Bismarck recounted an incident that occurred on Saturday 29th April 2023, where armed men attacked a convoy of Senegalese trucks traveling from Niger to Senegal. She said that the incident took place at Nari on the Dori-Kaya main axis along the Niger-Burkina Faso Border, resulting in nineteen (19) truck drivers being held hostage. Fortunately, they were released later. She emphasized that such unfortunate activities have led to the loss and damage of goods, as well as the loss of lives in some cases.
Ms. Bismarck emphasized that the safety of drivers remains a top priority, and all stakeholders in the shipping and logistics sector must work together to ensure that, especially whilst they are in transit with cargo.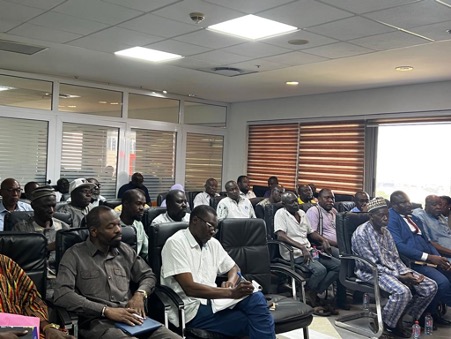 A cross-section of the participants.
Given the increasing reports of attacks, particularly along the Dori-Kaya route, the Ministry of National Security and the Ministry of Transport have directed that haulage owners and drivers in Ghana should consider alternative routes when traveling to the Sahel region. They suggested the route via northern Togo or Benin.
Mr. Peter Ofori Antobrah, the Assistant Commissioner for Transit at the Customs Division of the Ghana Revenue Authority (Customs) stated that Customs was prepared to assist the truck drivers to find alternatively safer routes should they experience terrorist attacks or armed insurgencies along their regular routes. He said that once they receive information about any such threats, they would readily assist. He acknowledged that while these actions may not completely eliminate insurgent attacks, measures such as the "See something, Say something" initiative have been implemented to help reduce such incidents. Residents living along these borders have also been engaged on how to report suspicious activities they may observe.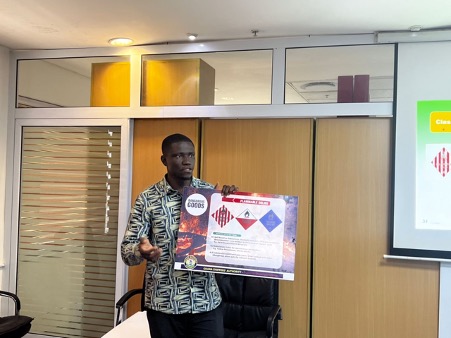 Mr. Kwadwo Opoku Mensah, a Deputy Director of the EPA taking participants through the dangerous goods signages.
Assistant Commissioner Ofori Antobrah urged the truck drivers and other stakeholders to reach out to the Customs if need be, and assured them that there would be no charges for assistance to change their routes.
Mr. Benjamin Blay of ICUMS reassured traders, haulage owners, transporters, and other stakeholders that ICUMS is working with Customs and Ghana's neighbouring countries to adjust the systems necessary for the re-routing of transit cargo without any hitches.
GSA also used the opportunity presented by the meeting to train the truck drivers on the "Dangerous Cargo" signage. They emphasized the importance of exercising maximum caution when transporting or encountering such goods on the roads. Mr. Kwadwo Opoku Mensah, a Deputy Director of the Environmental Protection Agency (EPA) in the Western Region facilitated the training.