Importers and Exporters in Tarkwa, a suburb of the Western Region have been urged to apprise themselves of the Customs procedures for processing imports and exports to enhance their operations and improve the fortunes of shippers in the region.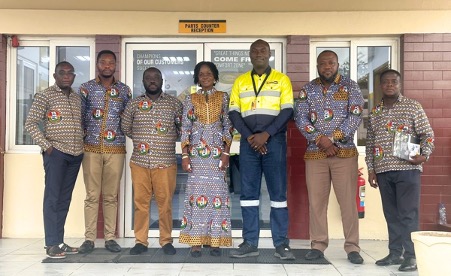 A staff with MANTRAC GH in a group photo with the delegation from the GSA
This was made known by the shippers when a team from the Takoradi Branch of the Ghana Shippers' Authority (GSA) led by the Branch, Mrs. Agnes Asamoah-Duku embarked on a routine outreach program to connect with key stakeholders in the Tarkwa Municipality.
The visit enabled the GSA to better understand the shipping needs of the shippers of that area.
During its interaction with the shippers, the Takoradi Branch Manager of the GSA  Mrs. Agnes Asamoah-Duku noted that some shippers who are ill-advised seek to cut corners in their bid to maximize their profit margins, a development that has dire consequences in the end. Some penalties imposed on such businesses lead to huge revenue losses and in some instances, the collapse of the businesses.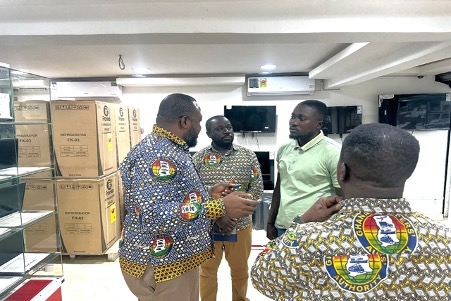 Mr. Philip Boateng, the Branch Manager of Franko Trading Enterprise interacting with the delegation from the GSA
The companies visited were Franko Trading Enterprise, a retailer of mobile phones and accessories, African Mining Services (AMS), a multinational mining company, Mantrac Ghana, dealers in heavy-duty mining equipment and African Resource Management (ARM), importers of equipment for mining and construction.
The Customer Service Officer at ARM, Ms. Mavis Agyei Marfo expressed her company's readiness to collaborate with the GSA to promote sustainable shipping practices and environmental awareness within the mining community.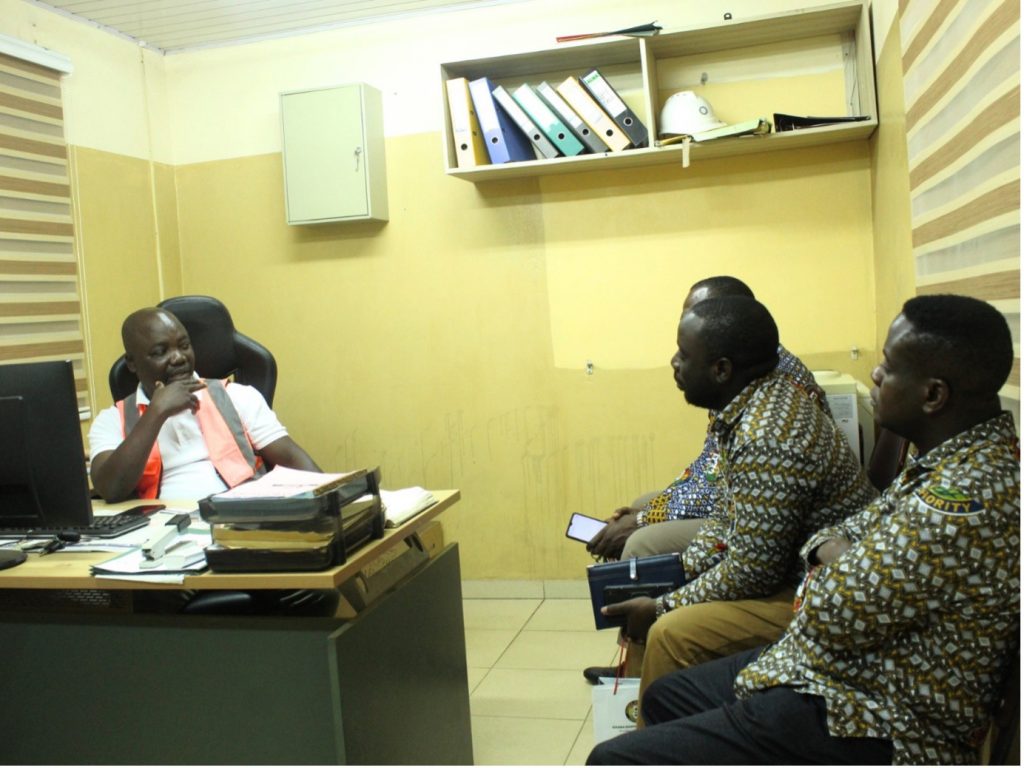 Mr. Emmanuel Bediako, the Logistics Manager at  African Mining Services AMS (left) engaging staff of the GSA
Mrs. Asamoah-Duku expoused the continuous training and sensitization the GSA provides through the Regional Shipper Committee and urged them to register to become members of the Committee.
She used the opportunity to inform them about the GSA's Shipper Complaints and Support Units (SCSU) dotted at the various entry points of the country, the closest to them being the SCSU at the Elubo border. She urged the shippers to report any challenges they face promptly for timely resolution.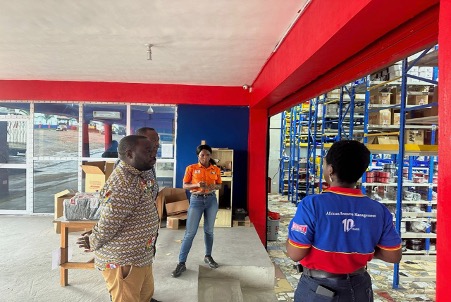 Staff of the African Resource Management (ARM) interacting with the delegation from the GSA.
Mrs. Asamoah-Duku added that the Takoradi Branch office of the GSA was  open to them should they find the need to come over.