The Chief Executive Officer (CEO) of the Ghana Shippers' Authority (GSA) has won the Most Outstanding Female in Corporate Social Responsibility award at the 6th Feminine Ghana Achievement Awards.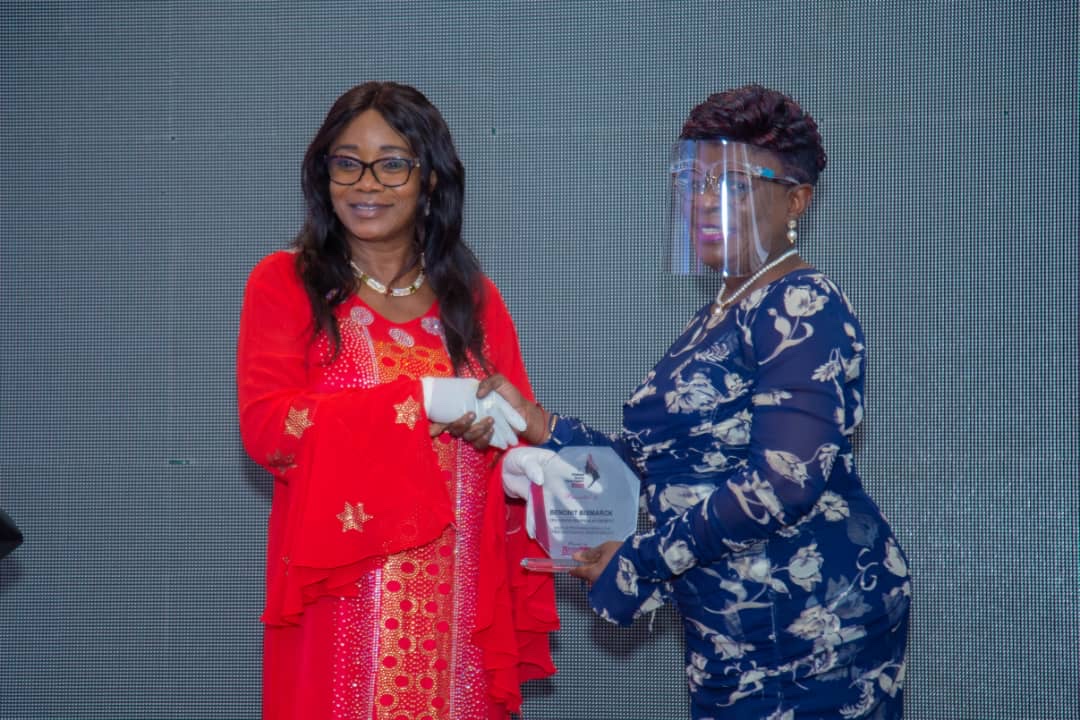 Ms. Bismarck (right ) receiving the award from Hon. Cynthia Mamle Morrison, Minister of Gender , Children and Social Protection
The event which occurred on 4th September, 2020 saw about 37 other women, including a Minister of State, diplomats, high-level professionals and entrepreneurs, honoured with meritorious awards
Ms. Bismarck led the GSA to sponsor over 1,000 children of Funko Basic School in the Western Region onto the National Health Insurance Scheme (NHIS). Under her leadership, the GSA has also institutionalised a scheme to sponsor female needy-but-brilliant students pursuing Marine Engineering at the Regional Maritime University (RMU).
Through her instrumentality, the GSA as part of its CSR, has also given a face-lift to the truck park at the Hamile border in the Upper West Region. The park is being used as a rest stop for transit truck drivers who cart goods between Ghana and the landlocked countries of Burkina Faso, Mali and Niger.
The awards ceremony was held under the theme "Implementation of Affirmative Action to Improve the Status of Ghanaian Women in the Era of COVID-19."
It was organised by The Business Executive Magazine Ltd. to identify, recognise and reward great women whose excellent personal and professional performance has impacted positively on the Ghanaian society.