The Ghana Shippers' Authority (GSA) has donated 150 branded bedsheets, detergents, and toiletries to the Salaga Municipal Hospital in the Savannah Region.
The items were delivered to Mr. Aloysius Bokuma, the Administrator of the Hospital on Wednesday, 24th May 2023 by the Tamale Branch Manager of the GSA, Mr. Frederick Atogiyire.
Donating the items on behalf of the Board and Management of the GSA, Mr. Atogiyire underscored the significance the GSA places on supporting health facilities. He mentioned that similar donations had been made to other hospitals across the country.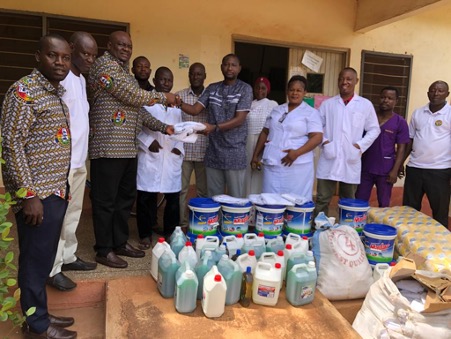 "It is getting more challenging for Government alone to shoulder the increasing cost of healthcare in the country. It is therefore crucial for corporate bodies such as the GSA to step in to support healthcare institutions to make life more bearable for patients on admission and administrators" Mr. Atogiyire noted.
Receiving the donation on behalf of the Salaga Municipal Hospital, Mr. Aloysius Bokuma thanked the GSA for the kind gesture and promised that the items will be put to good use.
The GSA made the donation as part of its social responsibility interventions to support the communities it operates in.