The Ghana Shippers' Authority (GSA) has intensified engagements with the Joint Association of Port Transport Unions (JAPTU) as part of efforts to address the plight of Ghanaian truck drivers who use the Benin/Niger border due to the increasing acts of insurgency in the West African sub-region. This came up at the 2023 3rd quarter GSA's Western Regional Transit Shipper Committee meeting held on Wednesday, 13th September 2023.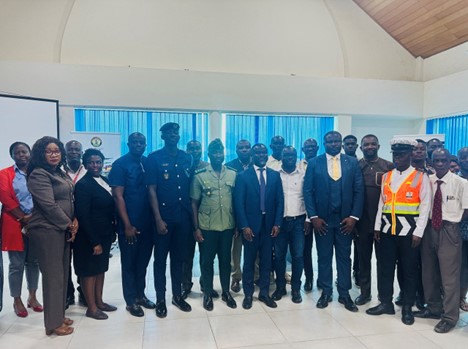 A group picture after the Committee meeting
The main agenda of the meeting was the discussion of the recent activities of insurgents on the Sahelian Corridors and their impact on transit trade.
The Principal Freight & Logistics Officer at the Takoradi Branch, Mr. Abdul Haki Bashiru-Dine enumerated some current interventions of the GSA in the current situation. He said that the GSA was meeting with stakeholders and the Ministry of Foreign Affairs & Regional Integration on how best to;
assist drivers who get caught up in the insurgencies,
sensitize drivers who ply that route,
facilitate rerouting of trucks through Benin,
meet with JAPTU to find mitigative measures, and
hold virtual meetings with Ghana's Ambassadors in those countries for updates on the situation.
Recounting some of the insurgent activities that involved Ghanaian trucks, Mr. Bahiru-Dine said that the Tema Chapter of JAPTU alerted the GSA in April 2023 that twenty-six (26) trucks moving cargo from Burkina Faso into Ghana had been attacked by suspected terrorists and had their cargo seized and the trucks set ablaze. He said the trucks involved included eighteen (18) Ghanaian trucks and eight (8) trucks from other West African nations.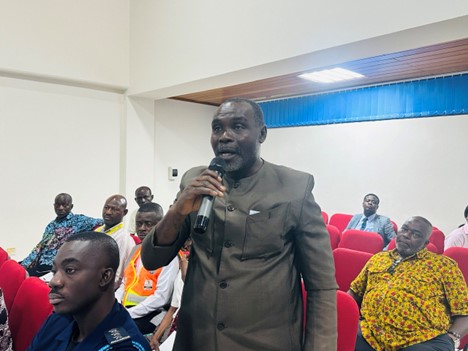 A Committee member asking a question during the meeting
Adding his voice to the discussion, Alhaji Musah Ibrahim, the Executive Secretary of JAPTU-Tema, called for the government's quick intervention in the matter. He appealed against the use of force by ECOWAS, which he said would have a devastating rippling effect on drivers currently being held captive by the insurgents.
Ghana's major transit clients over the years have been Burkina Faso, Mali, and Niger. Even though transit trade has been fraught with a myriad of challenges in recent times, insurgent activity has become the nation's biggest challenge, causing low transit numbers.
The Transit Shipper Committee is a platform created by the GSA to discuss challenges to transit trade along the country's major corridors, and proffer innovative solutions to overcome the challenges to enhance the competitiveness of transit shippers that use using Ghana's ports and transport corridors.