Ghanaian Regulatory Agencies operating at the Akanu-Noepè Joint Border post in the Volta Region have highlighted the need for enhanced collaboration with their Togolese counterparts to facilitate trade across the border.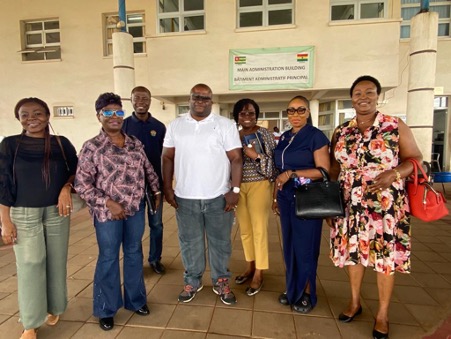 The Port Infrastructure Committee of the Board of the GSA in a group photo at the Akanu-Noepe Joint border post during the tour.
They noted that the border post, which has been in existence since October 2018, is yet to reach its full potential due to operational challenges that have affected its efficiency. The disturbing information was share with members of the Port and Infrastructure Committee (PIC) of the Board of the Ghana Shippers Authority (GSA) when they visited the border post on Wednesday 12th July 2023 to familairise themselves of progress made in its operations.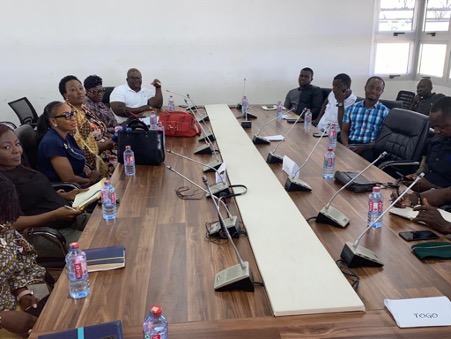 Members of the Port and Infrastructure Committee of the Board of GSA (left) in a meeting with representatives of some regulatory agencies at the Akanu-Noepe joint border.
The Agencies included the Plant Protection and Regulatory Services Department (PPRSD), Ghana Standards Authority, Food and Drugs Authority (FDA), Veterinary Services Department, Integrated Customs Management Systems (ICUMS), and the Customs Division of the Ghana Revenue Authority (Customs).
During the discussion with the officers of the Agencies, they expressed concern about the decline in transit cargo that came through the border and attributed it to some inconveniences some trucks face when they came through that route. The Base Commander of Ghana's Customs Division at the border, Chief Revenue Officer (CRO) Thelma Enyonam Dotse, noted that, "The poor sanitary conditions and lack of basic utilities are slowing down transit trade because these days we have about 60 trucks crossing the border with cargo on a weekly basis; it was much higher not long ago."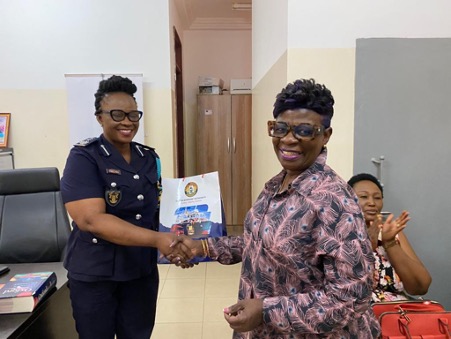 CEO of GSA Ms. Benonita Bismarck (right) shaking hands with the Base Commander of Ghana's Customs Division at the border, Chief Revenue Officer (CRO) Thelma Enyonam Dotse.
The Chief Executive Officer (CEO) of GSA, Ms. Benonita Bismarck, in her response to the concerns raised said that the issues would be brought to the attention of the relevant government officials of the superintending Ministries to enable enduring solutions for the improvement of transit trade via that route. She stated, "We will raise these matters with the relevant Ministers, including those from Trade and Industries, Roads and Highways, as well as the Commissioner for Customs, so that they can engage their counterparts in Togo. This will enable us to implement the necessary Memorandum of Understanding that should guide all parties."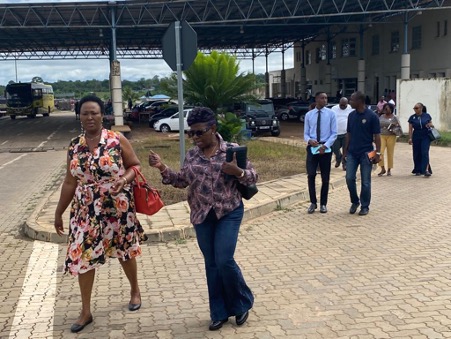 The Chairman of the PIC, Ing. Dr. Michael Anyetei Adjei, also underscored the need to harmonize the operations of the Customs Divisions of both countries to enable the efficient and effective functioning of the joint border post.