CEO of GSA, Ms Benonita Bismarck addressing the press
The Ghana Shippers' Authority (GSA) has released statistics on Ghana's maritime trade performance in imports, exports and transit trade for the first half of 2018 at a press conference at the Ghana Shippers' House in Accra.
The engagement forms part of the Authority's Shipping Quarter and Outlook programme instituted to engage the media and provide timely, authentic and accurate information on the shipping industry to the public.
From January to June 2018, Ghana's seaborne trade volume increased by 14.3 per cent over the same period in 2017, and the outlook for 2018 is expected to see a growth of about 10 per cent in cargo throughput.
While total imports for the first half of 2017 registered 6.76 million mt, the figure increased by 5.9 per cent to 7.16 million mt over the same period in 2018 comprising 2.93 million mt of Liner cargo, 0.86 million mt of Break bulk, 1.71 million mt of Dry bulk cargo and 1.66 million mt of Liquid bulk imports.
Total exports for mid-2018 also saw a 33.53 per cent increase over 2017 from 3.02 million mt to 4.01 million mt.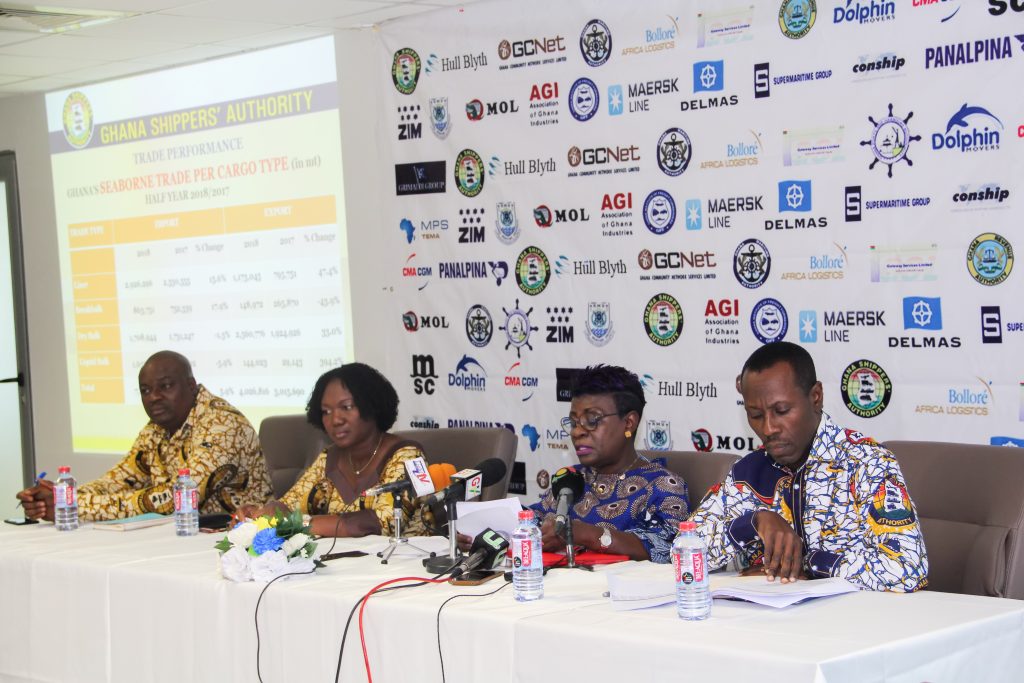 From Left to Right- Mr. Frederick Atogiyire, Head of Public Relations; Ms Sylvia Asana Dauda-Owu, Deputy CEO; Ms Benonita Bismarck, CEO and Mr Emmanuel Arku, Head of Research, Monitoring and Evaluation of the GSA
On transit, Ghana's total trade between Burkina Faso, Niger and Mali for the half year of 2018 recorded 497,574 mt. This represents a rise of 10.7 per cent in the 2017 figure of 449,650 mt for the same period. The 2018 transit trade comprises imports of 449,710 mt and exports of 47,864 mt.
The Chief Executive Officer of the Ghana Shippers' Authority, Ms Benonita Bismarck, who announced the figures on Friday 24thAugust, 2018, among other developments in the maritime transport industry, noted that demurrage payments at the Ports of Tema and Takoradi reduced from USD38.5 million in the first half of 2017 to USD28.5 million over the same period in 2018.
"It has been a priority of the Authority to reduce the total amount of demurrage and rent payments through shipper education and sensitisation. This has been aggressively pursued through the engagement of trade associations like Ghana Union of Traders' Associations (GUTA), Association of Ghana Industries (AGI) and other shippers across the country on the need to avoid demurrage and rent", she stressed.
NB.
Click HERE to see a detailed analysis of Ghana's maritime trade performance for the first half of 2018