Introduction
Shipping was once an elite venture deemed to be the preserve of highly knowledgeable and technical people. The idea of shipping is said to have started back in the 3rd Century BC. Merchants operating during that time came to the realization that sending products overseas via sea transport was cheaper and faster than doing so by land.
In its early days, goods were loaded onto ships in sacks, barrels, and wooden crates with scores of dock workers on board vessels to ensure their safe arrival. This has evolved into containerization and break bulk; and today, there are automated ports and vessels that globe trot with a seven-member crew on board for both liner and non-liner sectors of shipping.
Throughout the years shipping goods by sea remains popular due to the comparatively lower cost, high sea vessel load capacity, and minimal restrictions on vessel carrying capacity; a development which is greatly supportive of the e-commerce market not only in Ghana, but globally.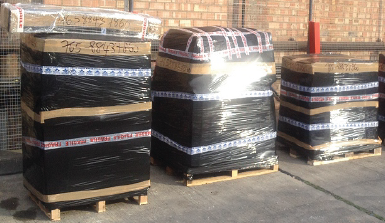 Export Targets
GEPA is working towards achieving a set target of US$5.3 billion in non-traditional exports (NTEs) to foreign markets by the end of 2023. In the latest GEPA Annual NTE Statistics Report, non-traditional exports (NTEs) for 2022 reached USD 3,531,048,234 representing a 6% growth over the USD 3,330,317,588 realized in 2021. The amount reported represented 20.22% of the total merchandise exports for the year.
The CEO of GEPA, Dr. Afua Asabea Asare, attributed the positive development to various interventions implemented under the framework of the National Export Development Strategy (NEDS), such as the Youth in Export Programme, Export School, and Training for Small and Medium Scale Enterprises (SMEs). As it is well documented, shippers who utilize liner services are usually numerous, often widely dispersed, and on shipping matters, they usually lack any form of commercial relationship with each other. Consequently, their bargaining power is weak.
Growth of SME Shippers
The initiatives being promoted under the National Export Development Strategy (NEDS) among others have resulted in the growth in the number of SME shippers across the country. Many shoppers and businesses are exposed to various commodity requests globally but are not able to fully meet the demand due to capacity challenges.
The initiatives by GEPA have also resulted in the discovery of new markets for SME shippers resulting in a growing number of entrepreneurs in the shipping sector. Many of them are youthful, mostly graduates exploring a means to survival after school.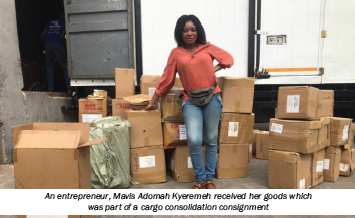 Ghana, as a growing player in the global trade arena, has embraced cargo consolidation as a vital component of its shipping industry. With the country's increasing export activities and a burgeoning import market, SMEs have found cargo consolidation to be a transformative solution. The Ghana Shippers' Authority (GSA) and other key stakeholders have been instrumental in promoting and facilitating cargo consolidation in the country. Through collaboration with the Regional Shippers Committees and State Agencies, the GSA aims to standardize and optimize cargo consolidation services.
Cargo Consolidation
In the ever-expanding global marketplace, efficient and cost-effective shipping solutions are vital to the success of businesses worldwide. Cargo consolidation, also known as Freight Consolidation, has emerged as a game-changer in the shipping industry, revolutionizing how goods are transported. This article explores the concept of Cargo Consolidation and its impact on international trade, particularly in enhancing efficiency and cost savings.
Whether for import or export, Cargo Consolidation provides the best opportunity for SME shippers to enhance their operations and maximize their gains. Cargo Consolidation is a logistics strategy that involves combining multiple small shipments from different exporters or importers into a single, larger shipment. Instead of shipping individual small consignments, the goods are grouped together to form a more substantial and cohesive load. This process optimizes container space, reduces shipping costs, and increases efficiency in the transportation of goods.
The Cargo Consolidation process begins with a Freight Consolidator, a specialized logistics provider, who collects shipments from various businesses and assembles them into a consolidated load. The Consolidator organizes the cargo according to its destination, type, or specific requirements. Once the container is filled with multiple shipments, it is sealed and transported as a single unit to the intended location.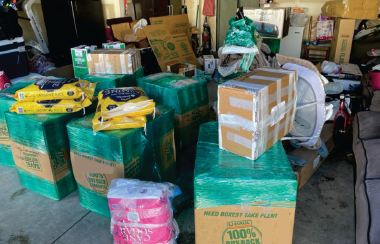 E-Commerce
The vast opportunity shipping offers has led to exponential growth in the e-commerce sector as shippers have come up with a strategy where they seek partnership to consolidate their freight, by combining with other shippers who have less-than-container loads, resulting in one container rather than shipping small deliveries.
To further maximize the gains of Cargo Consolidation, the Ghana Shippers' Authority (GSA) and the State Agencies mandated to negotiate freight charges, have already taken steps to standardize the operations of Cargo Consolidators and de-Consolidators operating locally to help improve their services. The initiative has gained importance as the operations of Consolidators have become key in the shipping and logistics sector, offering cost-efficient services to importers.
Export – Cargo Consolidation
In Ghana, a significant number of export companies operate in silos as they undertake their shipments individually and thereby fail to take advantage of the benefits accruing from aggregating their produce for shipment. They also lack the capability to undertake effective negotiations for freight and other conditions of shipment for their produce.
The GSA, mandated as the negotiator of charges with shipping service providers and also the facilitator of outbound cargo for shipping lines has taken the pole position to lead this charge. Through its nationwide presence and its Regional Shipper Committees, the GSA has a strong network to collaborate with key State Agencies and stakeholders to push the increased export agenda.
Import – Cargo Consolidation
On the import side, Cargo Consolidation is quickly becoming the order of the day with the growing number of SME importers. While the traders in the Central Business Districts of the country depend heavily on consolidation to import their products, many SME Shippers scan online shops around the world and purchase products that they can resell for a margin. Most of them import through the aid of Cargo Consolidation.
Mavis Adomah Kyeremeh has been an SME exporter for over 5 years and has created a network of SME shippers who periodically share their import experiences to guide their operations. She told the Shipping Review that, but for consolidation, many of her colleagues could not have been shippers.
Benefits of Cargo Consolidation
Cost Savings: One of the most significant advantages of Cargo Consolidation is cost savings. By combining multiple shipments into a single container, businesses benefit from economies of scale. Sharing the transportation expenses with others results in reduced shipping costs per unit, which is particularly beneficial for small and medium-sized enterprises (SMEs) with limited shipping volume.
Enhanced Shipping Efficiency: Cargo Consolidation streamlines the shipping process by reducing the number of individual shipments. This results in simplified documentation, customs clearance, and administrative procedures, saving time and resources for both shippers and Freight Forwarders.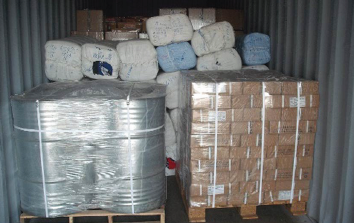 Environmental Sustainability: Fewer shipments mean reduced carbon footprint. Cargo Consolidation contributes to environmental sustainability by minimizing the number of transportation vehicles required and, in turn, reducing greenhouse gas emissions.
Access to Global Markets: Cargo Consolidation opens new markets for businesses. SMEs can now affordably ship goods to international destinations previously considered out of reach due to high shipping costs.
Risk Mitigation: Consolidated shipments are typically handled by experienced logistics providers who ensure secure and safe transportation. This reduces the risk of damage or loss during transit.
Conclusion
Cargo Consolidation has emerged as a strategic and efficient shipping solution in the modern trade landscape. Its ability to reduce costs, enhance efficiency, and expand market reach makes it a game-changer for businesses, especially SMEs, across the globe.
As the world continues to embrace globalization and e-commerce, Cargo Consolidation will play a crucial role in streamlining trade and fostering economic growth. By leveraging this innovative logistics approach, businesses can effectively navigate the complexities of international shipping and reap the rewards of a more connected and prosperous global market.
The concept of Cargo Consolidation as a conduit to bridge the country's import-export gap requires some innovative thinking and determination, and there is sufficient motivation and goodwill to initiate the process for its implementation. The nation's economic woes have been blamed on the significant trade imbalance which puts a huge pressure on the local currency resulting in consistent depreciation. The successful implementation of the Cargo Consolidation project will deliver tremendous benefits to shippers; and more so, the national economy. State Agencies consequently need to forge strong alliances to determine the broad framework within which to execute the Cargo Consolidation agenda.
By: Osei Owusu Amankwaah