During the 188th meeting of the Western Regional Shipper Committee (WRSC) held for the shipping community in the Western Region, the Ghana Shippers' Authority (GSA) conducted a sensitization session on Timber Trade Procedures & Documentation. This informative session took place at the conference room of the Takoradi Shippers' Centre on Thursday, 14th September 2023.
In her opening remarks, Branch Manager Mrs. Agnes Asamoah Duku reiterated the GSA's commitment to equipping shippers and other key stakeholders in the shipping value chain with essential knowledge to help grow their businesses.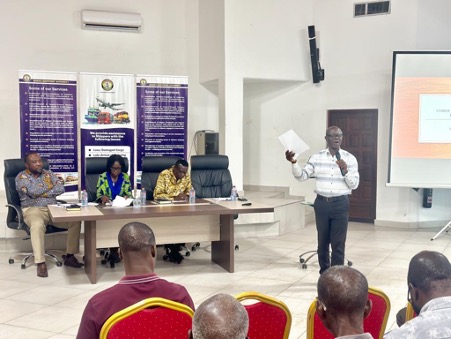 The facilitator of the meeting was Mr. Yaw Kumi Gyabaah, the Western Regional Contract & Permit Manager of the Timber Industry Development Division (TIDD) within the Forestry Commission. He introduced the participants to the legal framework underpinning TIDD's registration of operators in the Timber Trade and Industry. According to Mr. Gyabaah, under the Timber Resources Management Licensing Regulations, LI 2254 of 2017, "a person shall not export from the country or distribute for sale on the domestic market a timber product without a license issued by the Forestry Commission."
He also informed participants that the registration requirement applies to both exporters and non-exporters of timber. Exporters encompass millers and export trading companies, while non-exporters include canoe manufacturers, wood product dealers, large-scale furniture manufacturers, small-scale furniture manufacturers, retailers, and carvers.
To register as an exporter, only a Certificate of Incorporation, Company Code, and Tax Clearance Certificate are necessary. In contrast, registration as a non-exporter requires a Certificate of Registration, Form A, and a Tax Clearance Certificate.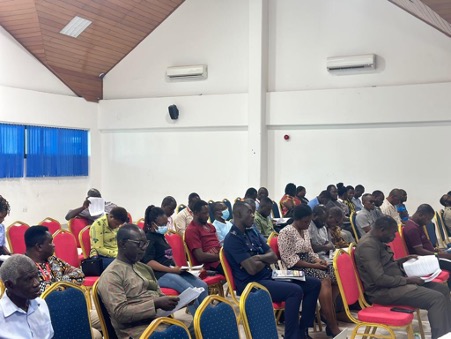 Mr. Dereck Agbodjan, the Takoradi District Chairman of the Ghana Institute of Freight Forwarders (GIFF), who represented the Committee Chairman on that day, endorsed the need for more sensitization seminars of this kind. He emphasized that such seminars would stimulate citizens' interest in timber trade and bring the numerous opportunities it offers closer to their reach.
The WRSC is one of the ten shipper committees operating across the country, holding quarterly meetings. These committees comprise importers, exporters, logistics companies, freight forwarding associations, as well as various Ministries, Departments, and Agencies (MDAs) whose work significantly impacts the international trade of shippers.