The Ghana Shippers' Authority (GSA) has met with the Secretariat of the European Union – Ghana Economic Partnership Agreements (EU – Ghana EPA) to ensure that Ghanaian exporters improve their exports to meet EU requirements.
This has become essential considering the recent EU sanctions imposed on Ghana, which has affected some vegetable exports that did not meet the requirements.
The meeting between the GSA and the EU-Ghana EPA secretariat on 18th October 2022, as part of the Authority's series of engagements with stakeholders in the shipping and logistics sector, was to deliberate on areas of mutual collaboration between the two agencies to build on existing trade relations.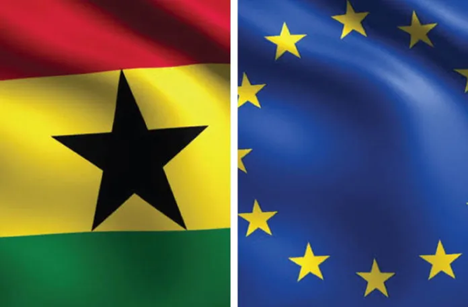 Mrs. Monica Josiah, Head of the GSA's Shipper Services and Trade Facilitation Department, used the occasion to enlighten the leadership of the EU – Ghana EPA Secretariat on the Authority's mandate. She cited the Ghana Export Promotion Authority's (GEPA) 2021 Non-Traditional Exports (NTEs) report, which stated that most of the country's Non-Traditional Exports ($3.33 billion in 2021) went to Europe.
"A lot of Ghanaian traders export their goods to Europe so there is the need to hold such discussions which will be mutually beneficial to both parties because there is a lot we can do to ensure compliance" she noted.
The EU-Ghana EPA Secretariat's Team Lead, Mr. Nicolas Jorgensen Gebara, thanked the Authority for the visit. He stated that his organization is willing to collaborate with the GSA, particularly in the area of information sharing, as this would aid in informing Ghanaian exporters of any modifications to the requirements for exporting to the EU.