Over 250 haulage truck drivers plying the Ghana-Burkina Faso-Niger-Mali corridor were taken through road safety and security measures at a workshop organised by the Ghana Shippers' Authority(GSA).
The event, organised Thursday February 22, 2018 in Tema, is part a series of stakeholder engagements scheduled for the year by the Authority to address key issues confronting the maritime and transport industry.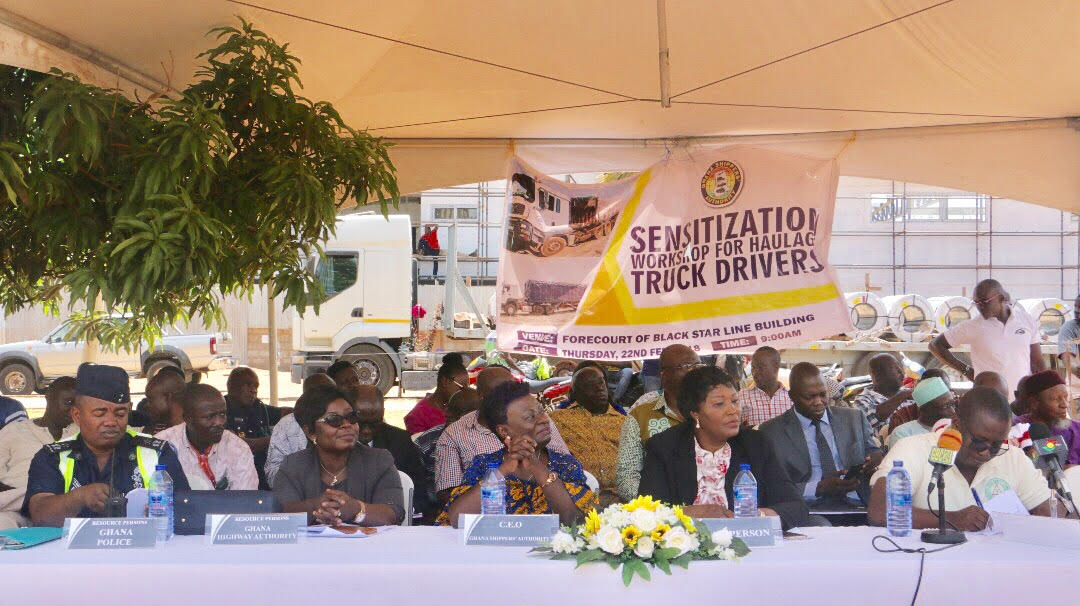 Resource persons from the Ghana Police Service, Ghana Highways Authority and the National Road Safety Commission sensitised the drivers on road safety and major road traffic regulations; drunk driving and its legal implications and the safety of the roads; and the implementation of the Axle Load Regulations in Road Traffic Regulations, 2012 (L.I. 2180).
The drivers were also educated on Regulation 14 of the West African Monetary and Economic Union(UEMOA) on Harmonisation of the Control of Dimension, Weight and Axle Load of Heavy Duty Goods Transport Vehicle within UEMOA Member States.
Speaking at the event, the Chief Executive Officer of the Ghana Shippers' Authority Ms Benonita Bismarck reiterated the important roles haulage truck drivers play as critical stakeholders in the transport logistic chain within Ghana's transport corridors.
She said the GSA is committed to regularly sensitise and equip the truck drivers on international conventions and national/regional regulations that relate to their operations in order to ensure compliance.
The planned development of the Boankra Inland Port project, port expansion projects in Tema and Takoradi, activities of the National Trade and Transit Facilitation Committee and other government agencies, according to Ms Bismarck, are among steps taken by Government to make Ghana's corridor one of the most attractive in the sub-region.
The General Manager, Marketing and Corporate Affairs of the Ghana Ports and Harbours Authority, Mrs Esther Gyebi Donkor, said transit cargo through the ports of Tema and Takoradi grew from 1,025,787 tonnes in 2016 to 1,249,336 tonnes in 2017 representing a 22 per cent increase.
She commended the Authority for its commitment to addressing the nagging challenges on Ghana's transit corridors
Questions and concerns raised by the drivers at the one-day workshop regarding their operations were addressed by the resource persons.