Shippers in the Eastern Region have been urged to apprise themselves of the duties of Government Ministries, Departments and Agencies (MDAs) whose operations have a bearing on their business operations and to seek their support whenever the need arose.
The call was made by the Eastern Regional Head of the Food and Drugs Authority (FDA), Madam Anita Owusu-Kuffour during the 62nd Eastern Regional Shipper Committee meeting held on 21st March 2023 at Koforidua. It was to conscientize the MDAs about the need for a collaborative approach to the resolution of challenges, especially through policy formulation.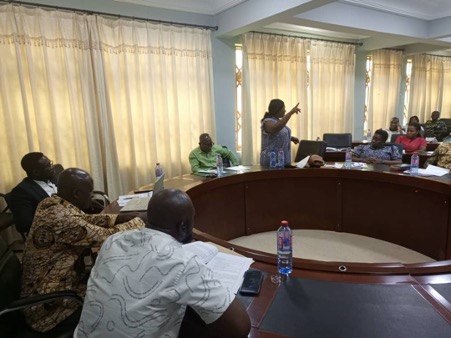 Madam Owusu-Kuffour informed the Committee that shippers can obtain relevant documentation from the regional offices of the FDA, therefore they do not need not travel to the headquarters in Accra for that purpose.
"Merchants and shippers travel all the way to Accra to access the services of Agencies such as the FDA, Ghana Standards Authority, Ghana Export Promotion Authority, among others when the same services could be rendered at the regional offices of those Agencies. This happens because they do not inquire from us", she noted.
The Tema Branch Manager of the GSA, Mr. Charles Sey encouraged the shippers to report any challenges they face in their import and export operations to the MDAs to enable tailor-made solutions to be facilitated for their resolution.
"Issues can only be resolved or addressed when they are reported. Reporting the issues also helps us to know if we are putting in place the right framework to support and grow your business. The economy grows if you grow, so come to us to support you", he said.
Representatives from the Ghana Standards Authority, the Eastern Regional Coordinating Council, Ghana Export Promotion Authority, Food and Drugs Authority, Ministry of Trade and Industry, Environmental Protection Agency, exporters, importers, and traders among others attended the meeting