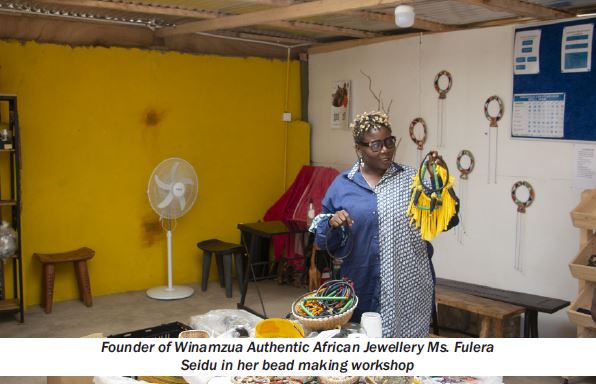 Ghana's handicraft industry has a huge potential in meeting the ever-growing global market demands. The industrial art and craft sub-sector contributed a total of $30,630,413 (1.08 per cent) of Ghana's non-traditional exports (NTEs) earnings in 2020. The figure represents an increase of 110.88 per cent from $14,524,610 in 2019, and is attributed to the increasing demand for made-in-Ghana ceramic products and expansion in capacity of production plants.
However, it appears revenue from Ghana's handicraft industry is in danger of decline as a result of some challenges faced by exporters of handicrafts. Financial constraints are at the top of these challenges. The overwhelming impression from the UNESCO Conference in 2000 was that the crafts organizations and craftsmen generally feel unsupported, under financed, under promoted and undervalued For Ghana to take advantage of the rising global demand for handicrafts, thus increasing its export revenues and making the industry more sustainable, strategies such as offering cheaper loans, encouraging equity investment, encouraging the use of commission agents, and offering business management training needs to be adopted.
These concerns were reiterated by Founder of Winamzua Authentic African Jewellery, Ms. Fulera Seidu. According to her, she has had difficulties in securing loans in the twenty (20) years since she ventured into the business of producing and exporting handicrafts.
"Winamzua" can be interpreted to mean 'Nature" or "God's friend" among the people of Kusasi in the Northern part of Ghana where Ms. Fulera Seidu hails. Some of the products She manufactures for export are Basket-ware, ceramic products, beads, necklaces, pottery, leather products, paintings and other forms of art and craft which display the African cultural heritage.
From handicrafts to skin care products
The lack of readily available credit facility to help improve and expand the production of handicrafts for export by Winamzua Authentic African Jewelry, prompted Ms. Seidu to establish "Nzua Natural Body Care Products" as a subsidiary of her handicraft export company, which she says "has been my saviour financially" and her "plan B". The motivation was to use the proceeds from her skin care business to finance the handicraft production and export business.
Speaking to the Shipping Review Magazine in an interview, Ms. Seidu who is also the Acting President of the Handicraft Exporters Association of Ghana (NAHE) said, "skin care products sell faster and I reinvest proceeds from my skin care sales into my handicraft business because I want to ensure its sustainability". The flagship skin care product by Nzua Natural Body Care Products is the BLACK SOAP which is produced and exported on pre-order basis.
The Nzua Black Soap which is made from cocoa pod, shea oil, coconut oil and herbal extracts  helps to nourish the skin and keep  it clean, beautiful while maintaining the colour without bleaching. Only locally sourced and natural raw materials are used in the making of the products.
The handicraft and skin care enterprise has successfully produced and exported about five (5) tonnes of assorted products to some parts of Africa and Europe only in the half year of 2022.
Leather production between Ghana and Burkina Faso
Ghanaian Leather Producers appear to be losing the market to their counterparts in Burkina Faso due to the difference in quality. Leather which is a key material in the production of jewellery, bags, foot ware, and wallets among others needs to undergo tanning where the skin or hide of an animal is treated or processed to eliminate bacteria and bad smell. According to Ms. Seidu, leather produced in Ghana is not properly processed.
As a result, many artisans who use leather in their craft, including her have no choice but to import it from Burkina Faso where they are sure of the quality.  "In Ghana, some people are making efforts at tanning the leather but those in Burkina Faso do it better. Leather made in Ghana is raw and so it carries a lot of bacteria and usually has a bad smell. Leather from Burkina Faso is the best for what we do, so we import from them" she said.
She added that Ghanaian artisans are generally hardworking, but they need to pay attention to detail. She believes Ghanaian leather producers are capable of producing high-quality leather and appealed to them to invest time and effort in their line of work. "Those who produce leather in Ghana like to focus more on making money than making high-quality leather so they spend little time to produce more, they should spend more time and focus on quality rather than quantity", she noted.
Skills Training in handicrafts and body care products
The passion and general attitude with which Ms. Seidu works have attracted a lot of artisans to her workshop seeking training. Earlier in her career, she worked with like-minded NGOs to train and build the capacity of artisans and others interested in learning the craft.
She later decided to open her doors to the public especially artisans who want to acquire knowledge and skills in the manufacture of handicrafts and skin care products of international standards. Ms. Seidu then devised an interesting strategy to provide equal assistance to all persons interested in learning, where she would charge a fee for the training of artisans in urban areas and use the proceeds to fund training and capacity building for artisans in deprived communities, mostly in the Northern part of Ghana.
Each year she spends at least two (2) weeks in the Northern regions for this purpose and prefers the one-on-one approach to teaching because it has proven to be more effective.
Exporters in the handicraft industry especially those who export leather, textiles or anything that can harbour bacteria are required to obtain a certificate from the Ghana Museums and Monuments Board which Ms. Seidu believes many of her colleagues are ignorant of. She said, "I do not think the Ghana Museums and Monuments Board is enforcing this law and many exporters don't know about it."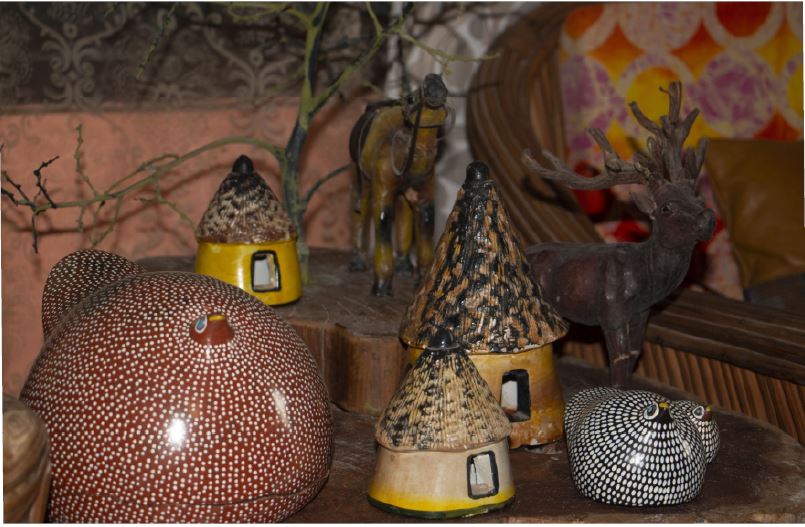 Appeal for support
She appealed to the Ghana Standards Authority to prioritise the certification of handicrafts for export to ensure the standardisation of the sector.
Data Collection among handicraft exporters is another issue of concern to the leadership of the National Association of Handicraft Exporters. Ms. Seidu appealed to the Ghana Export Promotion Authority (GEPA) to intensify efforts at data collection in the sector. This she believes will help in policy formulation and decision-making.
For a long time, members of the National Association of Handicraft Exporters had received little assistance from the government but this year, (2022) Winamzua Authentic African Jewelry was lucky to get a government grant for the first time in its 20-year history through the Ghana Enterprise Agency (GEA). She said, "we have been able to procure some machines with the grant and that is helping the business".