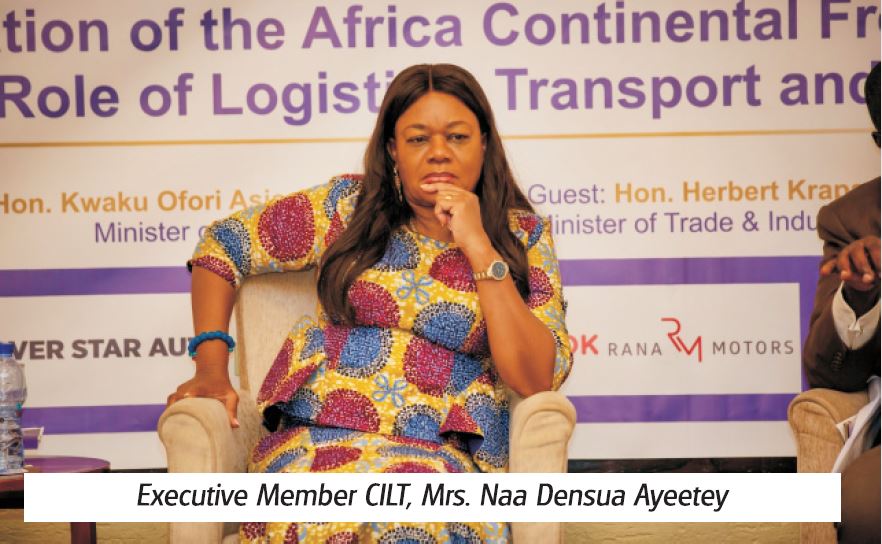 Trade volumes among African countries are likely to see a significant increase to support the growth of the Africa Continental Free Trade Agreement (AfCFTA) if the Africa Union makes it a priority to establish a liner vessel to operate solely on the continent.
That is a strong view being championed by an Executive Member of the Chartered Institute of Logistics and Transport (CILT), Mrs. Naa Densua Ayeetey.
Speaking at the 2022 CILT Africa Forum, Mrs. Ayeetey said there have been several attempts on the continent by public and private institutions to establish a liner vessel – a ship that regularly sails on a fixed route following a schedule – on the continent but it never materialized.
"It has been difficult to develop a liner vessel for Africa. We do not have short sea shipping, regional shipping, or even a good water waterway transport  in Africa. Air transport is fast but has a huge limitation on the volume of cargo it can carry. In Africa we export more of our raw material to the international world in large volumes, for example, bauxite, manganese, oil and all the others are in bulk, therefore the sea is the most appropriate channel," she said.
"It's important we give maximum attention to short sea shipping to help propel AfCFTA. Why is it difficult to ship from the coastline of Senegal to Angola; there can be vessels to do that. It has been a long-standing dream by the Economic Community of West African States  (ECOWAS), the African Union (AU) and other regional bodies to develop coastal sea shipping. With the implementation of AfCFTA, it must materialize," she emphasized.
Mrs Aryeetey wondered why a similar idea which was in operation in Ghana fizzled out: "In Ghana, we had a feeder vessel that served Tema and Takoradi; initiatives like this need to be encouraged."
She noted that Africa has one of the enviable coastlines globally and it is about time it leverages on it to sustain the life of the AfCFTA.
For her, some bold and strategic decisions need to be taken by African leaders to ensure that the energy associated with the AfCFTA is sustained and trade figures among African states soar.
"Africa can only benefit from its waters if it joins forces to acquire a vessel that would transport goods within the continent to boost trade. There have been questions on how to get money to get a vessel that will ply the African coast and I can say that there is money for that, we need to focus and put our energies together and attract the funding to make this happen," she said.
Maritime expert, Silvanus Amoah in an interview with the Shipping Review said it was envisaged that with the advent of COVID-19 and accompanying global supply chain disruption witnessed, of which Africa was the most affected, the conversation of having a liner vessel operate within the continent would receive great support but it has not been so.
He noted that in 2021, data from Alphaliner showed that capacity deployed on liner services to and from Africa was 6.5% lower than a year ago. Mediterranean Shipping Co (MSC), for example, shifted some 13,000 teu ships from African trading to the Pacific.
Other routes such as intra-Asia to Oceania and Latin America also saw less coverage that year too, but nowhere saw a greater drop in liner calls than the continent of Africa.
"We must learn from this and think of how to keep Africans alive in case another pandemic of greater propensity than COVID-19 hits the world" he said.
In an interview granted Splash247.co, in 2021, Jan Hoffmann, Head of the Trade Logistics branch at the United Nations Conference on Trade and Development (UNCTAD) said, "unlike the United States, African countries could not create significant economic stimulus packages, and their vaccinations rates are far lower than in North America. So the lower fleet deployment to African routes is a response of these two sides of the Covid pandemic. There is less demand, and the hinterland logistics system is even more strained than in the US."
According to Mr. Amoah, comments like these are scary and must put African leaders on their toes to act to safeguard the future of citizens.