GSA Desk Report
Cargo insurance is a key requirement in the shipping process, which provides a safety net for importers and exporters. A typical cargo insurance policy covers goods in transit via road, rail, sea or air. In its simplest form it provides cover against accidental damage and other risks. It is also a comprehensive all-risk policy, covering a range of specified accidents including damage during loading, transport, theft and negligence.
Many events can occur during transit that could result in shippers losing their cargo partially or entirely if they are not insured. A recent example is the regrettable Appiatse explosion which occurred in the Western region when a truck driver transporting dangerous chemicals to a mining site  exploded at the Appiatse community in the Prestea Huni-Valley District in the Western Region after it collided with another vehicle. The resultant explosion killed scores of people and caused extensive damage to property, almost wiping out the entire Appiatse township. The government has had to pool resources to rebuild the town.
For example, a haulier may be involved in an accident that could lead to the destruction of the goods being hauled, or could be attacked by robbers and suffer the entire loss of the cargo to theft. The ripple effect could be loss of profits, productivity, and buyer goodwill, however the impact of such incidents on a business could be minimised if not eliminated by cargo insurance.
It is common for shippers of cargo that require intermodal transport to rely on third party logistics companies to load and secure their cargo. The practise however necessitates verification that such third parties have the right experience to properly protect the cargo through insurance.  This is imperative to avert unforeseen disasters such as occurred at Appiatse in January 2022.
It is for such third party services that logistics companies like Freight Connect Ghana Limited (FCGL) exist. FCGL prioritises cargo insurance in its operations to provide a cushion against such eventualities.
FCGL has handled large volumes of cargo safely and securely and has by that earned trust and recognition from stakeholders in the shipping and logistics industry. With its vast knowledge and several years of hands-on experience, FCGL has the capacity, capability and resources required to handle the varied services for effective intermodal transportation of cargo.
Prioritizing the Safety and Security of Cargo – FCGL
In line with its core values and mode of operation, FCGL invests in being abreast with emerging trends in intermodal cargo transport, and is proactive in ensuring that goods are well packaged and appropriately positioned in the holding receptacle before the vehicle for transporting the cargo moves.
The company conducted its own analysis into the Appiatse explosion and found that the disaster was caused largely by a combination of poor storage of the dangerous cargo and reckless driving.
In a chat with the Shipping Review, Mr. Paul Jesse Mensah, the Chief Executive Officer (CEO) of FCGL said "we make sure they are well examined for any substance capable of intoxicating the driver while he is driving before embarking on any journey so as to avoid any incident capable of denting our reputation."
The Management of FCGL drew a lot of lessons from that explosion and used them to reform its operations. The company boasts of well-trained drivers who are examined periodically by medical officers before they embark on trips, especially those that require the transportation of dangerous cargo.
Mr. Paul Jesse Mensah went on to say that "The Appiatse explosion changed our perspective of cargo transportation and has impacted our operations as well. Our desire to ensure that the cargo we transport is safe and secure has gone up a notch higher since then, and has remained our priority."
FCGL has over the years developed a reputation built on its effective collaboration with partners in West African countries such as Nigeria, Benin, and Togo among others and that has helped the company to establish a third party haulage system for the smooth transportation of  cargo. The company has a system that tracks all cargo from when the trucks move till when they arrive at the destination.
Establishing FCGL
After completing a program with the Institute of Expert and Shipping Management in Accra, CEO Mr. Paul Jesse Mensah developed a special interest in Ghana's fledgling maritime industry.  He later subscribed to an online Maritime Magazine, "London Matters" which was dedicated to promoting the London maritime industry. His interest in reading the 'London Matters' magazine inspired him to practicalize the knowledge he gained from the Institute of Expert and Shipping Management. He worked with some companies to gain hands-on experience before establishing his company; Freight Connect Ghana Ltd – FCGL.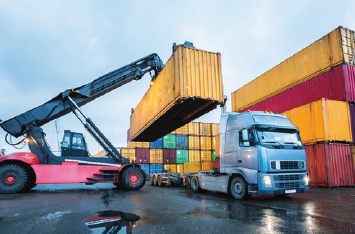 PJM as he is affectionately called, is a global Supply Chain Management and Logistics expert with vast knowledge in the maritime field. He is an award-winning entrepreneur and motivational speaker who engages in youth development and empowerment. PJM graduated as a Logistician from the Pentecost University College, Ghana and is currently pursuing an MBA in International Trade from the Anhalt University in Germany via a program being run by the Ghana Communication University.
His passion for entrepreneurship inspired him to establish FCGL in 2015. Mr.  Paul Jesse Mensah is a member of the Association of Business Management and Administrators – ABMA, UK.
Services
Since its establishment in 2015, Freight Connect Ghana Ltd (FCGL) has provided a complete portfolio of services to cater for its client's logistical needs. As one of the leading privately owned logistics and supply chain management service providers, FCGL has strategically developed global partners & agencies throughout the world. FCGL strives to provide top tier service with unprecedented operational excellence.
Air Freight
FCGL has proven through its dependable team that air freight handling has been its pivotal strength. The company is strategically positioned in the country's ports of entry and exit and are poised to handle the shipment of goods by air to any part of the world.
Ocean Freight
FCGL has developed good cooperation with sea freight carriers such as Maersk Line, CMA, COSCO, PIL and others. They strive to offer the best competitive ocean freight at affordable rates to complement the tailored services they offer their clients.
Warehousing & Trucking
FCGL offers secured facilities for storage and distribution of consignments at affordable prices.
Why Freight Connect Ghana Limited is the Preferred Choice
The company has the Ghana Revenue Authority's Customs Clearance facilities across Ghana, and reliable partners beyond the shores of Ghana. They also have technical expertise and state of the art package interfacing with the Customs Systems, as well as weekend Clearance and Delivery mechanisms.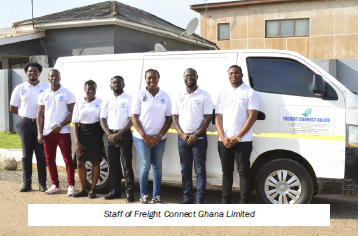 FCGL also proactively monitors corporate accounts through a centralized Pricing and Customer system that enables a seamless operations system and a centralized coordination team. They continuously improve their Customer Satisfaction parameters which is set to a standard 72 hours for sea shipment and 48 hours for air shipment after the payment of the applicable duty.
FCGL have full visibility tracking of shipments as well as a proactive notification system.